Careers

A Message For Applicants – From Susanville Ford's Owner
Susanville Ford is proud of its many accomplishments since its founding, and the people who make it a successful organization. We are honored that you are considering your career advancement with us. From the beginning, we have encouraged a family environment; one where hard work, dedication, and perseverance are richly rewarded.
If you are seeking a career change and are new to the automotive business, we will ensure to equip you with all the tools that will help make you a successful and respected employee. It is in our DNA to do so; for your success is the Susanville Ford's team success. If you are seasoned professional in the industry, we look forward to assimilating your existing talent and skill in the award winning Susanville Ford family.
We don't just sell and service the best cars, trucks and SUV's on the market – all of us work together to provide an unparalleled customer service experience for each of our clients known as the Susanville Ford Advantage. Whatever the department you decide to immerse your talents in, know that your role at Susanville Ford is important. And as we help you become successful, you help Susanville Ford continue its path of success, which is a win-win for everyone.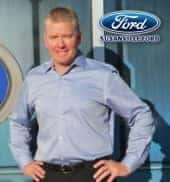 Sincerely,
Jeremy Cunningham
Owner, Susanville Ford
---
THE BENEFITS OF WORKING AT SUSANVILLE FORD
HEALTH
– Healthy employees are happy employees. We offer career-minded individuals with medical and dental, with employer assistance. Voluntary supplemental plans are also available.
EMPLOYEE DISCOUNTS
– Susanville Ford provides employee discounts on parts, accessories, and even vehicle purchases!
WORK / LIFE BALANCE
– Happy employees are also rested employees. We all need time to recharge our batteries to rejuvenate ourselves. Susanville Ford offers career-minded individuals paid holidays and paid time off (PTO).
YOUR CAREER AT SUSANVILLE FORD BEGINS HERE
If after reading our mission statement and the benefits of working at Susanville Ford encourage you to become our next success story, click on the button below to be taken to our application process
NOTE: We are always accepting applications. Your application will be stored for 30 days from the date you submit it. If there is a position that opens that you are a fit for, we will contact you from the information provided to us from your saved application. After 30 days, you will need to re-apply.
If you have questions, please feel free to email us at [email protected].